828 Washington Ave. Montgomery
, AL
36104
United States
1-800-537-6867
1-334-262-4177
You are here:
Home
/
President's Message
AERA President Dr. Stafford Thompson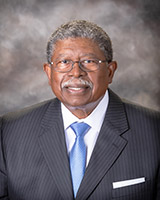 I hope that each of you had a very enjoyable summer!
A team crisscrossed the state attending ten Annual District Meetings over a six-week period. The meetings were productive, enjoyable, and fun-filled. District directors are to be commended for their creativity. They planned meetings that included recognition of all lo-cal presidents to line dancing! We were served delicious food; the prizes were beyond belief; and the camaraderie was great, too. I also wish to commend the local unit presidents for encouraging their members to attend these various meetings.
During the meetings, AMBA disclosed several pro-ducts that would be available to our membership. PEEHIP discussed updates that would take effect beginning October 1. And Humana assured us that not only will our benefits remain unchanged, but they were bringing additional benefits to the table.
I encouraged members to attend one of the 71 workshops that Humana and PEEHIP sponsored during the months of August, September, and October. These dedicated team events allowed members to obtain answers to both general and specific questions. One question that was asked during each district meetings was, "Why the change from United Healthcare® to Humana?" The answer, "There is a law that requires our retirement system to bid the benefit services every three years. Humana presented the best bid."
We also learned from our AERA Executive Director Jill Jackson that NEA benefits we thought were lost due to retirement are still in effect. The liability insurance that we enjoyed during our active days is still available to us. Likewise, the life insurance coverage that we had is still available when we are doing association business. Attendance at local, district and state meetings are covered under this life policy.. And, we learned that certificate renewal is available through our AERA/AEA membership.
Legislatively, AERA Member-at-Large/Legislative Bill King is keeping us informed of proposed legislation. For instance, he reports that Speaker of the House Mac McCutcheon recently mentioned that another lottery bill is likely to be filed during the next legislative session. He said that he would favor a "clean" lottery bill. If the bill does not include any funds for education, and more specifically for retirees, we will mobilize our advocacy network to amend the bill to include a COLA for education retirees.
Membership remains a priority for your Board of Directors, the AERA staff and me. We received several new memberships during our district meetings. Members of our association are using creative ways of recruiting new members. I want to take this opportunity to thank them for their efforts. I continue to challenge each of us to recruit, recruit and recruit some more! Without a PAC, "People Power" is our only weapon to gain the attention of our decision-makers. As I have stated at each district meeting, if we can increase our membership by 25,000 over the next two years, we will be able to gain positive attention and support from the Alabama State Legislature.
Thank you for your support. Let's continue to have a great year!

Dr. Stafford Thompson –  AERA State President