828 Washington Ave. Montgomery
, AL
36104
United States
1-800-537-6867
1-334-262-4177
You are here:
Home
/
President's Message
AERA President Teresa Noell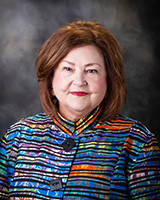 As I reflect on 2018, I realize just how busy AERA has been! Jill Jackson joined us as Executive Director and Teresa Wingard came on board as Membership Coordinator/Book-keeper. The lobby team spent many days in the State House meeting and working with legislators from all over the state. Many local unit leaders participated in our biennial upbeat, information-packed Leadership Workshop in April. Our An-nual Meeting in May was attended by a record number of almost 750; we heard from Dr. David Bronner and formally recognized the retirement of Janice Charlesworth. Ten district meetings were conducted as well as state committee orientations. Visits to local units are always a highlight for your president. This is just a snapshot of the work of our AERA. Many thanks are due to our efficient, hard-working staff.
In every article I emphasize the need for our vigilant efforts related to our retirement and health insurance benefits. State elections have been conducted, and we now know who we will be working with on issues in the coming year. Many of our legislators are new. I encourage all of us to communicate with our legislators (new and returning ones) face-to-face, by phone, or by hand-written note identifying ourselves as retired educators and asking that they work to help us progress in retirement. AERA's three Advocacy Training Meetings will be held in February to provide excellent training and information in lobbying. Please attend!
Two reactions come to mind relating to the one-time bonus check from the 2018 Legislative Session: The amount was too little, but it is the first increase to retired educators in ten years. So, in that respect it is a victory for AERA!
At the Alabama Delegate Assembly in December, an important resolution for retirees was passed unanimously. AEA/AERA will seek a COLA for all retired educators to be funded from the Education Trust Fund. This is the funding source for COLAs for active educators. Working for a COLA is a monumental challenge that will require all of us working toward this goal.
This is a season for extra giving to those in need. I am so proud of you as individuals and as local units for the work you have done and the donations you have made throughout the year in support of displaced students. In addition, I know most of you are also involved in other projects such as food pantries, clothes closets, and reading/tutoring students. Thank you so much!
As we reflect on the year 2018, many have heavy hearts due to loss of friends and loved ones, illnesses, and other challenges. Let us remember to keep each other in our thoughts and prayers.
As always, I appreciate your confidence in and support of me as your president.

Teresa Noell –  AERA State President