828 Washington Ave. Montgomery
, AL
36104
United States
1-800-537-6867
1-334-262-4177
You are here:
Home
/
President's Message
AERA President Dr. Stafford Thompson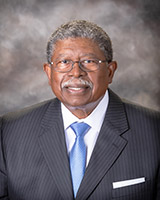 During my travels across the state, I have experienced a warm welcome and great hospitality from many retirees in our local units. My travels have proven to be challenging to my GPS. On more than one occasion, it has gotten me lost! Thus, I have had to rely on human directions. For those personal di-rectors, I am grateful for their assistance.
I have met many dedicated people who have given many years of their lives to educate the children of this state. Those caring souls who nurtured children, those who became extended parents, the character builders who guided many young people to become productive citizens of this state, I salute you.
Soon you will be called upon to make contacts with many of your former students, your legislative delegation. Your help is needed and is necessary if we are to be successful in achieving our legislative goals. Many of you have heard me say that despite the fact we are without a "money" PAC, we have something more powerful, a "people" PAC. We are developing the kind of respect as has never been experienced before with Alabama legislators. That is, the positive relationships with decision-makers that will become everlasting, not just a one-time vote to appease a certain constituent, but a relationship like the one I witnessed in Decatur earlier this year. It's not often that a legislator will rise before day to travel six hours just to be a part of a meeting of his constituents. This is the type of relationship building that we must develop for the future of our benefits and the future of this state.
Friends from all walks of life are invaluable. They have contacts that can become allies to our association and beneficial to the profession that we hold dear. We have connected with the Alabama Commission on Mental Health. We have also reached out to the National Alliance on Mental Illness (NAMI). The latter organization has local chapters across Alabama designed specifically to meet the needs of people dealing with mental disorders. This organization also has training modules that address issues peculiar to parents, the target group of our efforts.
Speaking of our efforts, planning has begun for the 2020 legislative session. AERA Executive Director Jill Jackson and I will meet as many key legislators as we can prior to the incoming legislative session. In January 2020, we will begin our Legislative Advocacy Training Sessions. All local presidents are asked to encourage as many members as possible to attend one of these sessions. The dates have already been distributed to local presidents. The AERA Legislative Committee has advised our state office of the kinds of questions to be included in a statewide legislative survey. The surveys will be distributed and collected during the Advocacy Training Meetings. This strategy will assure us that we are getting information from a representative group of our membership.
Mrs. Jackson scheduled a meeting with Governor Kay Ivey in November. We presented a check for over nine million dollars, which represents the dollar value amount of the total number of volunteer hours contributed by retirees last year! The presentation made a great impact on the decision-makers in our state, so please turn in the hours from your volunteer efforts this year.
Have a wonderful Holiday Season! And, remember…"YOU are the faces of retired educators and support personnel in this state!

Dr. Stafford Thompson –  AERA State President