828 Washington Ave. Montgomery
, AL
36104
United States
1-800-537-6867
1-334-262-4177
You are here:
Home
/
President's Message
AERA President Teresa Noell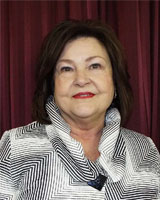 With cooling temperatures and leaf colors in gold and red, autumn has arrived in Alabama! I look forward to this season each year with its beautiful decorations of pumpkins, gourds, hay, and corn stalks as well as the kitchen smells of baking spiced muffins and apple cider. Not to put us into shock…but can Christmas be far behind?
I also look forward to this time of year because of new beginnings in our AERA local units. Local leaders have scheduled informative and valuable meetings for your chapters with opportunities for fun and fellowship.. Join with your fellow retirees to participate in these good times.
Along with being an engaged member in your local, be certain that you are involved on the state level. There are several yearly state meetings that you may attend. Read The AERA VOICE! and the Alabama School Journal—regular publications that come to your home—to keep you updated and informed about issues, information, and offers that are available to you as an AERA member.
Another very important part of this autumn is elections in Alabama. If education retirees truly desire good things for our state, we must know the candidates and vote for those who will make the hard decisions that will move us forward. As I have visited units over the past few weeks, I have been very pleased that many of you are having legislative candidates at your meetings. Remember that in addition to asking if they will vote in a favorable way on behalf of education retirees, ask the harder question of whether they will work to introduce and pass legislation to support us. Ask your families and neighbors to vote for the candidates you determine to be best for public education retirees. In the legislative session beginning March 5, 2019, the important issues once again for retirees are fully funding our health insurance and protecting our retirement. VOTE! VOTE! VOTE!
I hope to see each of you during the 2018-2019 membership year at your local meeting, at a state meeting, or just out and about.

Teresa Noell –  AERA State President