828 Washington Ave. Montgomery
, AL
36104
United States
1-800-537-6867
1-334-262-4177
You are here:
Home
/
President's Message
AERA President Teresa Noell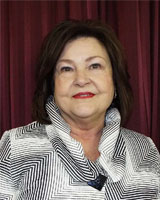 Summer is definitely here! As I write this article, Anniston is enjoying a temperature of 92 degrees with 99 percent humidity.
Through the efforts of AERA leaders and members we were successful in passing legislation for a 13th check for public education retirees. While the amount each of us receives is not very much, getting the legislation passed was a marked victory! For the first time since the COLA in 2006 and the 13th check in 2008, retirees will receive monetary recognition from the state of Alabama. AERA will be working again in the legislative session of 2019 to gain more for its members.
This point leads me to the next crucial one I want to share. Perhaps I sound like a broken record in speaking about the upcoming state elections, but we can better or worsen our position in gains for retires at the ballot box. We must elect those who want not only to vote in favor of retirees, but who will also lead the effort to find and use funding sources. This means voting for individuals based on issues and not on emotions.
The Annual Meeting on May 8th was a great success! Our speaker, Dr. David Bronner, was very informative and challenging. We were happy and sad as we honored and said farewell for the final time to Janice Charlesworth. She and Dennis are now settled into their new Louisiana home and enjoying children and grandchildren.
I am looking forward to seeing hundreds of you at the district meetings across the state in July and August. If you have not attended a district meeting, now is the time to do so.
It is also the time to contact those newly retired educators and those you know who are retired, but who are not AERA members and ask them to join the Alabama Education Retirees Association. Tell them why you are a member. We have greater strength with greater numbers.
As you plan for your upcoming year in your locals, remember that it will be my pleasure to join you to do a program or just to greet you on that day.
Thank you to our executive director, our staff, our local leaders, and our members for making AERA strong!

Teresa Noell –  AERA State President