828 Washington Ave. Montgomery
, AL
36104
United States
1-800-537-6867
1-334-262-4177
You are here:
Home
/
President's Message
AERA President Teresa Noell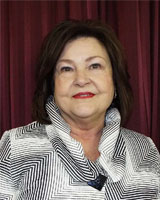 Fall is in the air for certain.  I hope that you are enjoying the cooler mornings and evenings as much as I am. All our local units have had at least one meeting by this time, and I have been invited to speak at many of them. You are planning and executing excellent programs and meetings.
As I am traveling our beautiful state and reconnecting with longtime friends and meeting many new ones, I am again struck by how stellar and dedicated Alabama's retired educators are. In retirement we are active in volunteer work in churches, schools, civic organizations, and other endeavors. We are still giving of our time and talents.
Work is going forward to find the right person to become AERA Executive Director upon Janice Charlesworth's retirement early in 2018. The search committee: Joe Ward, Alma Wyatt Jones, Bill King, Cleophus Stephens, and I have been busy for months reviewing applications and conducting interviews. The name of the candidate chosen by the committee will be presented for a vote by the AERA Board at its October meeting. You will hear more at a later time.
Remember that our strength is in our numbers. Our greatest tool in recruitment of new members is member-to-nonmember contact. Contact nonmembers you know and share with them why AERA membership is important to you. Then invite them to a meeting. Enrollment is easy!
I hope to see you at one of the three Advocacy Meetings planned for December. This is not a convenient meeting time in the year, but with the legislature going into session on January 9, training, planning, and action must begin early. It is vital that your chapter has officers and members present. With this being an election year, we have a better than average chance of legislation being passed for a 13th check, but we must be vigilant and do the work necessary. I will mention the U.S. Senate race. Election Day is December 12th—again not a convenient time of year. But I urge you to research and do your homework to determine the candidate you think will most likely work to protect Medicare and our defined benefit retirement system. Of course, doing the research and settling on the better candidate will do no good unless you vote. If there is any chance that you cannot be present to vote in this election on December 12th, cast your absentee vote.
We probably cannot mention too often that the AERA Annual Meeting is May 8, 2018, so mark your calendars now and plan to be part of a great event.
Best wishes to each of you!

Teresa Noell –  AERA State President