828 Washington Ave. Montgomery
, AL
36104
United States
1-800-537-6867
1-334-262-4177
You are here:
Home
/
President's Message
AERA President Teresa Noell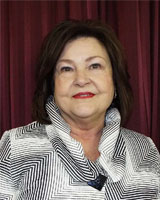 First of all, I am very appreciative for and humbled by the opportunity to serve as your AERA president for the next two years.  Our association is strong today because of the dedication and work of our executive director, staff, and former leaders.  We will continue to build upon our past accomplishments, never losing sight that each member is vital to the success of their local unit and each local unit is vital to the success of the Alabama Education Retirees Association.
Last month's Annual Meeting at the Pelham Civic Complex was a great success with over 700 retirees in attendance. Kudos to all involved, and thank you to former President Joe Ward for your leadership!
Just as last year, our goals in this legislative session are the passage of the 13th Check Bill and the COLA Trust Fund Bill. I hope that by the time you read this edition of The Voice! we can celebrate their passages. Let us focus year-round on building relationships with our elected officials and on holding them accountable to those of us who have spent our careers educating the state's young people. As we look forward to state elections in 2018, I challenge us to be well educated on the candidates and their commitment–or lack of–to our goals. We must elect "Friends of Public Education."  We have the potential to influence our friends, acquaintances, and family members to vote in the same way. I am convinced that if we as retirees unite in our efforts we can elect the right leaders. First, we must be educated on the issues and the candidates. Two valuable resources for us are The AERA Voice! and the Alabama School Journal.
It should be the goal of each of us to see AERA membership grow significantly. I challenge you to ask education retirees you know who not members to join us. They need us and we need them!
I look forward to working with you to achieve our goals.

Teresa Noell –  AERA State President