828 Washington Ave. Montgomery
, AL
36104
United States
1-800-537-6867
1-334-262-4177
You are here:
Home
/
President's Message
AERA President Dr. Stafford Thompson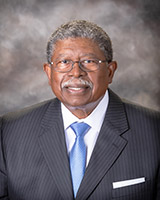 On behalf of the 2019-2021 AERA Board of Directors, I want to thank you for attending our May 7, 2019, Annual Meeting in Pelham. The board is already planning and strategizing ways to advance your concerns to Alabama legislators and other bodies of interest.
The outgoing board of directors did a splendid job representing you. The effect of their hard work will be realized for years to come. If you come into contact with Teresa Noell, please show your appreciation for the leadership she provided over the past two years.
One of the top priorities of this administration will be to protect your benefits. Another will be to obtain a Cost-of-Living Trust Fund and a method of funding it. Our decision makers must come to realize that if legislators in states contiguous to Alabama can find ways to provide their retirees with as much as a three percent annual cost-of-living raise, then together we can do the same. A funded COLA for Alabama retirees is a must if we are to keep pace with the rising cost of goods and services in Alabama.
Over the next two years, I would like for Alabama Education Retirees to participate in the efforts of addressing the rising issue of mental health among preschoolers through third graders. In January 2017, the Alabama Association for Infants and Early Childhood Mental Health formed a group called "First 5 Alabama." It is a licensed affiliate of the Alliance for the Advancement of Infant Mental Health. Its overall four prong mission is to promote healthy social, emotional, cognitive, and physical development, and "to promote the education, professional development, and endorsement of professionals across multiple disciplines." The state office and I will contact Governor Kay Ivey and the task force chairperson to express Alabama Education Retirees' interest in assisting in the implementation of their vitally important strategies.
Membership has been one theme that has permeated AERA since its existence. We have less than one-half of the total number of retirees in this state active in AERA! I believe that we can command more attention and respect from the purse holders (legislators) if our membership is larger. To that end, the goal over the next two years will be to increase our active membership by 25,000 people. Ambitious, you bet! However, an organization such as ours must be able to demonstrate its power at the ballot box. There-fore, if we can reach the goal of 47,000 members, with the potential of doubling that number at the voting booths, we can gain legislative attention. The board will take the lead, and with your support this goal can be realized.
Remember, our success can be realized simply by working together. As education retirees, we can never give up on having our collective voices heard by our decision makers.

Dr. Stafford Thompson –  AERA State President