828 Washington Ave. Montgomery
, AL
36104
United States
1-800-537-6867
1-334-262-4177
You are here:
Home
/
President's Message
AERA President Teresa Noell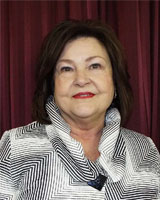 The calendar does not indicate spring, but as I write this article, the warmth of the day and the beautiful blooming trees and flowers shout the approach of the new season.
As this edition of The AERA Voice! goes to press, I am pleased to report that the Senate has passed an amended version of SB21 with a formula providing one dollar a month for every month of a retiree's service. The amount will be provided in a one-time bonus check. The Senate bill will now go to the House. AERA Executive Director Jill Jackson, AERA Member-at-Large/Legislative Bill King, AERA Immediate Past President Joe Ward, and I have lobbied in the State House several days every week since the session began. Many of you have been in communication with your Senate and House members. We are all working together to attain additional compensation for our retirees. It will not be the amount we would like, but quoting Senator Gerald Dial, the sponsor of SB21, "It is a token of appreciation to those who dedicated their careers to education in our state." On a positive note, the budget does have funding for PEEHIP at the present levels. Continue to let your legislators hear from you.
Our newly hired executive director has had several very busy months with all the business of the association, lobbying, and visiting local units. As I have heard from various locals, the reports coming in are all very positive and supportive of Mrs. Jackson.
I encourage all of you to make plans to participate in AERA's Annual Meeting on May 8 at the Pelham Civic Center. Remember that this meeting is open to all members and guests. Our business meeting speaker will be RSA CEO Dr. David Bronner, who will have lots of important information to share with us. During the luncheon session, AERA will honor our former Executive Director Janice Charlesworth for her over 20 years of leadership with the association. Her husband, mother, children, and grandchildren are making plans to join us during this time of fellowship and fun. Please join us in giving Janice a warm Alabama send-off as Dennis and she move to Louisiana!
As always, I wish to express my appreciation for your confidence in my leadership of our association. I can attest to the excellent locals in our state. I look forward to being invited to your local soon.
Best wishes to each of you!

Teresa Noell –  AERA State President