828 Washington Ave. Montgomery
, AL
36104
United States
1-800-537-6867
1-334-262-4177
You are here:
Home
/
President's Message
AERA President Teresa Noell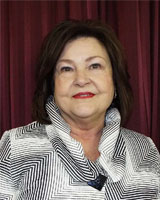 Where did the summer go? I know the weather and the humidity are still excessive here in our state; but as far as summer break for schools, it is a fleeting memory in most of our minds. Many are gearing up for the high school and college football seasons that dominate our fall in Alabama. If it were possible, I would wish that all our teamscould be the champs!
Your AERA staff, officers (state and local), and committees have been busy with training and planning this summer. Our state association is only as strong as our locals, and our locals are only as strong as our members. You, the member, are the Alabama Education Retirees Association. Our membership has been over the 23,000 mark for several years now, but our potential membership is nearly 90,000 based on the number of education retirees receiving a TRS retirement check. I choose to view this situation in a positive way and see the cup as half full. We have a huge base from which to grow! But staff and officers cannot grow membership alone. Each member likely knows at least one retiree who is not a member. I urge you to contact that person with a personal message from you about how you value your membership in AERA and ask that person to join. Contact your local president or the AERA office for a membership form. It requires a signature, but no money is necessary with the form if the person chooses payroll deduction of dues. Alma Wyatt Jones, Member-At-Large/Membership, will be challenging us as members throughout the year.
I am very pleased with what I know our locals will do with this year's Community Service Project: "AERA Supports Displaced Students." It is heartbreaking to realize how many of our students are displaced or homeless. Mobile Education Retirees Association, who sparked this project idea, deals with this reality on a larger scale than does the rest of the state, but all school systems have these students. This is not just a beginning of school project but a year-long one since we know that many of these students are transient and also that the materials and goods that are shared with them will be consumed and need to be replaced. Thank you now for what your local will do for displaced students!
Much work was done during this past legislative session and progress was made. Though neither of our bills passed, they were on the special order calendar and would have been brought to the floor, if time had permitted. Because of your work at home with your legislators and the work we are doing in Montgomery, we anticipate that this year will see a 13th check for retirees. It is also a plus that this coming session will be held during an election year!
Please be certain that you are well informed about the US Senate candidates asking for our votes this year and what they say they will do to support public education and to protect defined benefit pensions, Medicare, and Social Security. We have the opportunity to send a senator to Washington to speak on and vote on our behalf.
On a bittersweet note about which I will say more later, our Executive Director Janice Charlesworth has announced her retirement after the first of the year. Mrs. Charlesworth has led and served AERA in an outstanding fashion for twenty years. It is now family time in Louisiana where her children and grandchildren live. We wish her the greatest of retirements! In April I appointed a search committee that has been hard at work. The period for application for the position has ended and the process continues. We have received interest from many excellent candidates. Janice will never be replaced, but with the foundation she has laid and the excellent office staff and board we have, AERA will continue to be a strong state association that is admired and imitated by other state affiliates.
Remember—"We may be retired, but we are not expired!  Let's Be the Change!"

Teresa Noell –  AERA State President